1364 AT Pt DEFIANCE
At age 14 Jack Anderson noticed that the 1364 was in need of attention and wrote a letter to the Tacoma City Parks.  The park department thought that it was a good idea especially that the youth of Tacoma wanted to take interest in their landmarks.  Jack got some of his friends together and they proceeded to scrape the paint in preparation for painting.  Although just 10+ years prior the Northern Pacific had completely painted the 1364 before donating the engine, once again came through by donating all the paint necessary for the job.  As with any good plan there is always a roadblock.  Steve Thomson, age 16, thought the group was vandalizing the locomotive and took appropriate measures to stop them.  When Steve found out what they were really doing he joined the group.  Five months of stripping and Five days painting later the job was done.  The group proceeded to take on the project of fixing some of the rotten boards.  This would be the first of many projects Jack Anderson would do on the 1364.
THE 1364 AT NALLEYS VALLEY
Even though the 1364 was spared scrapping from the "new and modern" diesel locomotive, a new fate awaited. The "new and modern" ferry terminal needed the right of way where the 1364 was parked. A group, Trains Inc, got the idea that they could revive the 1364 and run her again. One of the members of this group was the still young, Jack Anderson. The group leased a siding at Nallys Valley and moved the 1364 there in 1974 and began the restoration. The task was daunting and like the remodeler's cliche, "You don't know what you are getting into until you remove the sheetrock". This situation proved true when the 1364 was dismantled for repair and the hidden problems were now revealed. The subtle enemy, rust, never sleeps! Now with the 1364 disassembled, superheater pipes and other parts exposed to a wet climate, rust now was working overtime. Because the project had proven more difficult than first thought, the projected date of completion became now past tense. The lease on the track ran out in 1979, and once again the 1364 had to be moved to an even more hostile environment, the Tacoma tide flats. Now rust had a new ally, salty damp air. Here the 1364 would remain for 6 years. The promised funding did not come through. So in 1985 the 1364 was moved to Mt Rainier Scenic Railroad near the town of Mineral WA where the locomotive could rust in peace.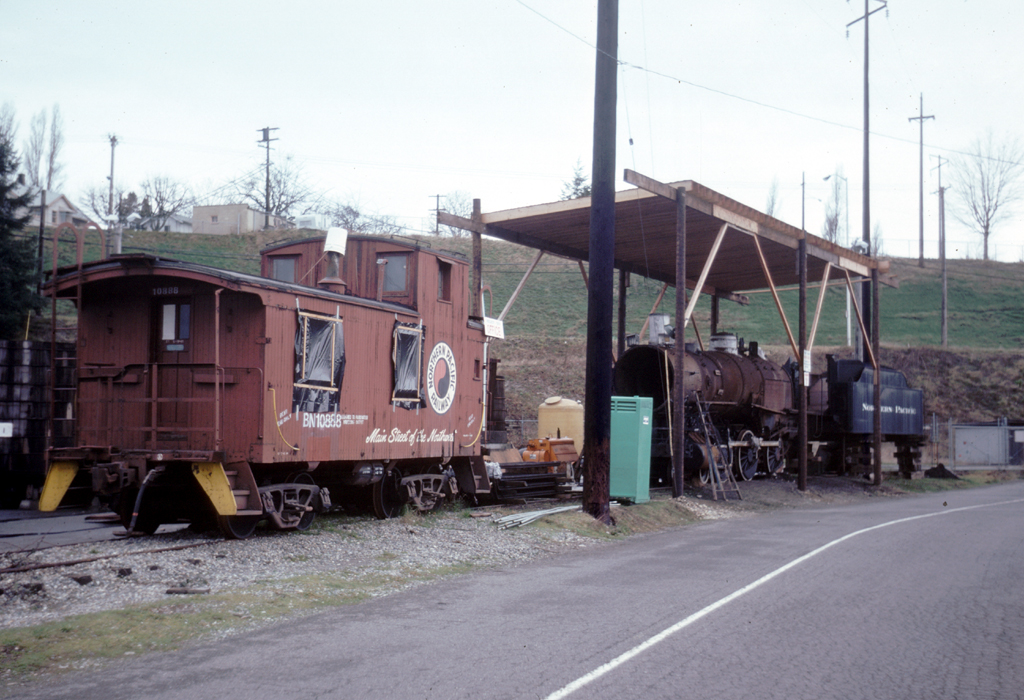 NP 1364 at Nallys Valley in 1974.  NP 1238 caboose donated by the BN for use as an office.
When the 1364 was moved to Mineral, Nallys retained the caboose and after refurbishment moved it to the  Kingdome for use as  a hospitality room.   When the Kingdome was demolished in 2000 Nallys donated the caboose to the museum and it was reunited with the 1364.